Fathima Farms
Fathima Farms: An Alluring Model of Ecotourism
Fathima farms Private limites of Chembra, wayanad making milestones in the sector of responsible tourism. Thousands of travellers came to visit the 804 acre farm. The Management of Fathima Farms moulded an excellent sustainable tourism model both in adventure tourism and ecotourism. The company directly run a handful of hospitalities like Zostel and Bungalow stay. In private sector, they provide cycling, Stingray tribe camp. In near future the management should build a bunch of facilities for travelers, like Nature walk, zip line, park for children, para gliding, giant whell, safari, lumine lights, roller coaster, bungee jump and indoor, outdoor games.
About the Land
The history of Fathima Plantation began after the great famine during 1876-1879. At that time, Decan faced the largest crop failure because of drought. After the famine, the British companies gave more importance to valued crops like coffee, tea, pepper and Elam. During the 1900's, the British company PEIRCE AND LESLIE came to Wayanad with the intention of establishing a tea plantation. They chose our place, which was managed by a group of estates. Our domain had 7 divisions and out of 7 divisions, three divisions were on Chembra estate and the others were in separate locations. The three divisions on the Chembra estate, namely Chembra division, Erumakolly no.2 division and the third, Erumakolly no.1 division, were established. The other 4 divisions were Poothakolly, Perumthatta, Elston and Wariayatt. Wariayatt being a coffee plantation and the other 6 divisions were tea plantations and all those still have the same glory.
The British recruited indigenous tribal peoples for plantation labour. The authorities of the plantation made large bungalows for top executives, small quarters for workers, masjids, temples, schools, post offices, grocery shops, hospitals and watch towers. After Independence, the British people went to their mother land and the ownership of estate was handed over many times. Nowadays, the Fathima farms owned by Fathima farms Pvt limited, their head office situated at Nilambur. The company was established by Jaber Abdul Wahab, Puthanveettil Hameed, Naveen Chand and Pulikkalveettil Ali Mubarak in 1998.
Hospital converted to Zostel
Chembra hospital, which was built by the end of 1930 (1948-2016) was then renovated into Zostel Wayanad in 2019 (Zostel is one of the largest backpacker hostel chains around the world. It's an appropriate roof for both solo travelers and small travel groups. Zostel provides a way to relax in serenity) the vintage roof and saffron tiled floors installed by the British still survive! Is flooring with mosaic installed in the late 1980s is still intact! A recreational pool along with multiple hang-out spaces that you can choose depending on what mood you are in! So why should you overthink now when you have already found a space with limitless possibilities to explore physically, emotionally, and spiritually? Chembra Zostel, which was once Chembra hospital that once had nearly 200 patients per day, has witnessed millions of births, deaths, survivals, and struggles! Let's explore, work and spend some parts of life together! a million souls are watching! We know you wonder how we reworked the place. The details are mentioned below. See you at Chembra!. The old hospital rooms were renovated and converted with new aspects. The operation theater converted to common space, the isolation ward converted to chembra deluxe room and the old kitchen converted to cafeteria.
Address and Location
Deluxe Double Room
Bed in 8-Bed Mixed Dormitory Room
Bed in 6-Bed Mixed Dormitory Room
Bed in 6-Bed Female Dormitory Room Single
Bed in 4- Bed Dormitory Room
Bed in 4-Bed Dormitory Room
Deluxe Quadruple Room
The Royal Stay – Chembra Bungalow
The ancient Chembra Estate Bungalow is also here waiting for tourists. It is built in 1870 during the British East India Company. This beautiful mansion is situated in a scenic place and the bungalow has displays including the heads of animals hunted in the past days. The tariff is Rs14000 per day for staying in this bungalow. There are four rooms, built in the the British style. The facilities like parking, garden, tour guide, trekking and kitchen are also provided with the package.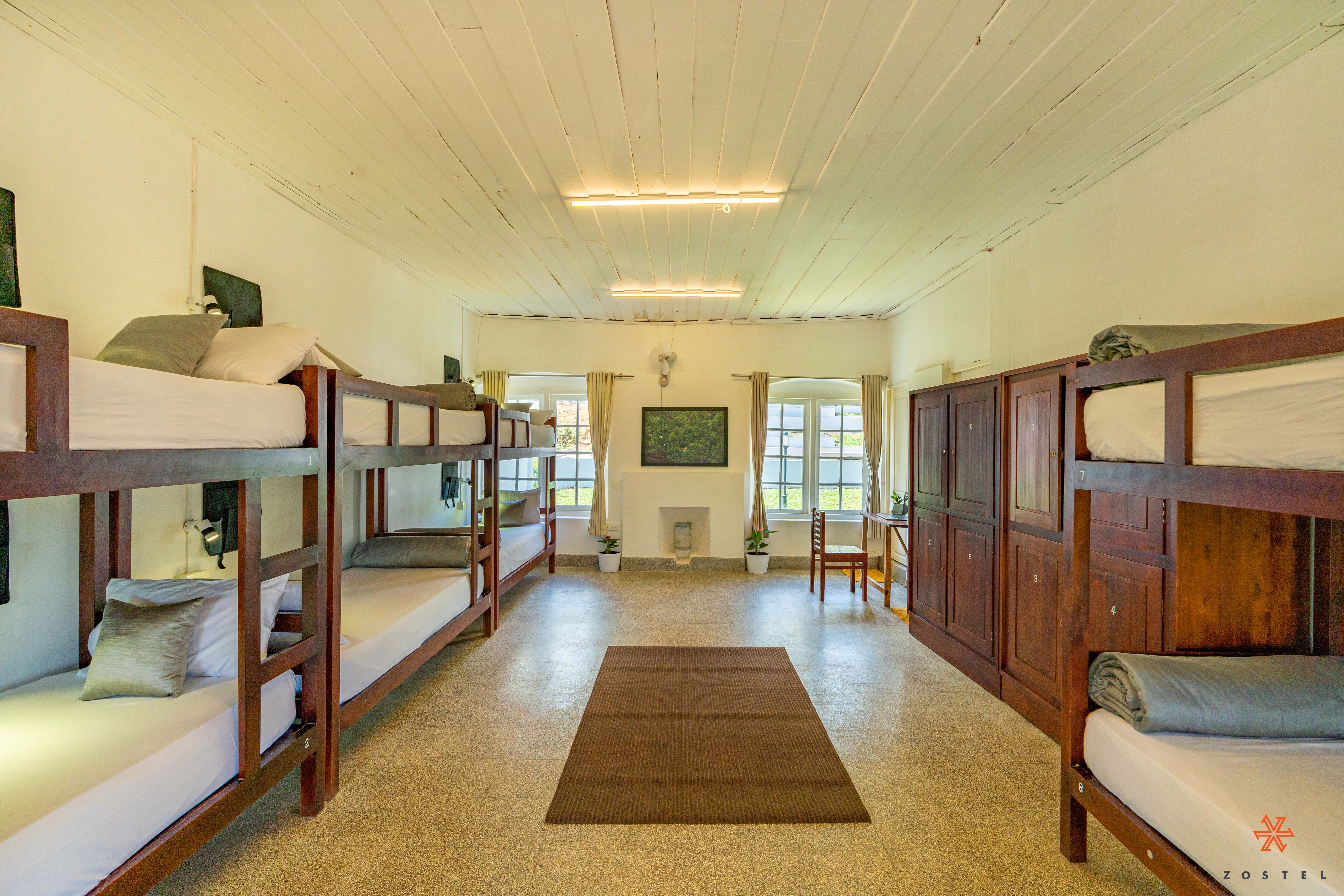 Stingray Tribe camp 'The cradle in the sky'
The stingray tribe camp has set up beneath the valley of Peak Chembra. The tent facility is arranged upon a tree, this facility is called "Akashathottil" (cradle in the sky) and only here in India has this facility. A maximum 15 people can stay in stingray. Along with the breathtaking nature, we can enjoy the never-before seen birds, plants, elephants, deer, campfires and heartbreak. No traveler can return from here without invoking the freshness and gentleness of the Wayanad. Every traveler will come back here again. The tariff is Rs 4500 rupees including food for a one-day stay.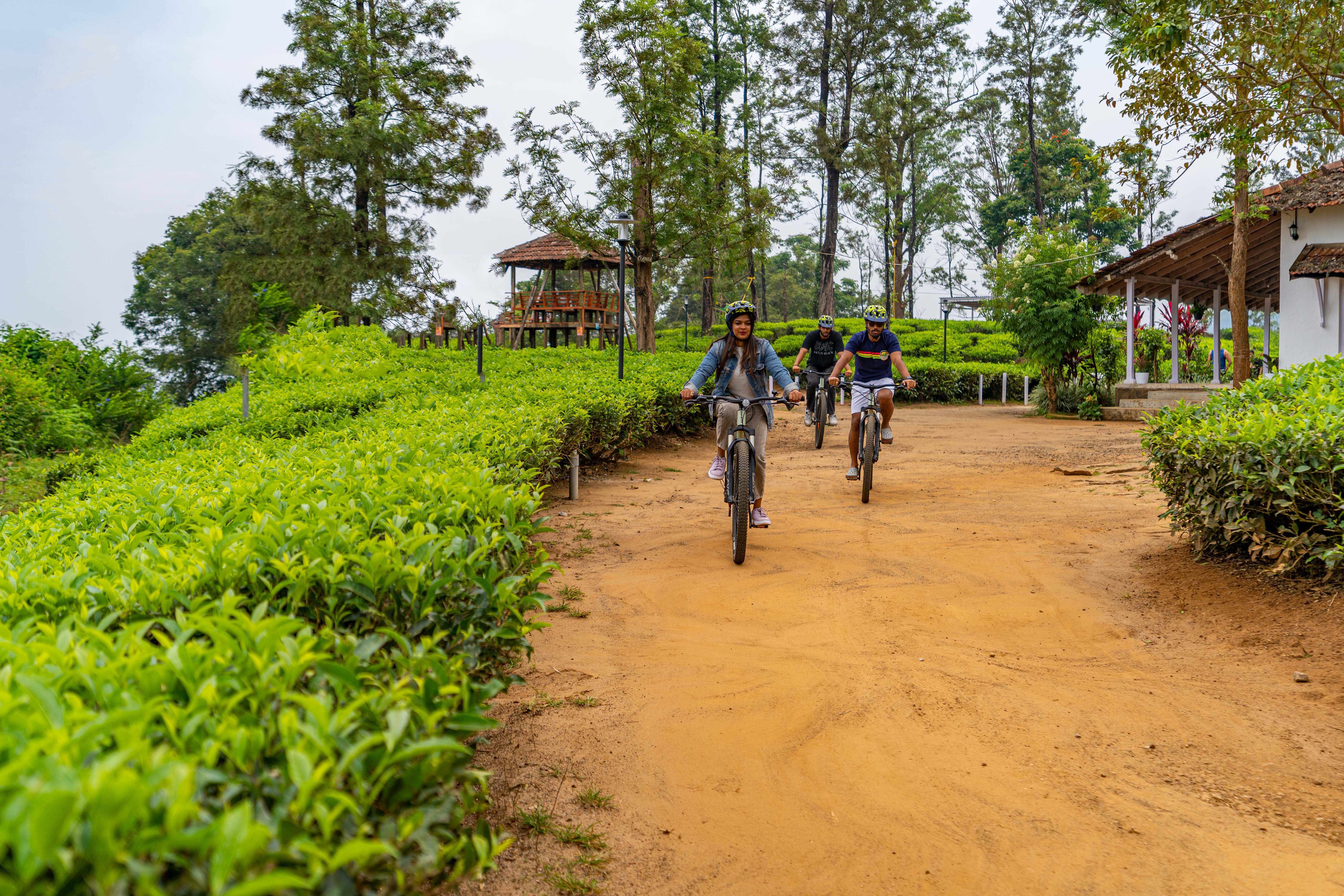 Cycling
India's first professional MTB track (Mountain Trek Bikes) is set up in Fathima estate. A company called "Circuit Wheels" has provided a cycling facility. Rs 600 including bicycle and Rs 300 rupees for using only track facility without a bicycle.
How to Reach
The Fathima estate starts from Erumakolli Road in Meppadi and extends to Chembra Bungalow. People from Kozhikode should get down at Chundale and reach Meppadi via Ooty Road. From there you can reach the estate by jeep or private vehicle.
Preparing for a Leap Adventure Tourism in Fatima
Fatima Farm is preparing new projects to utilise the tourism potential of Chembra Peak to attract more adventure travelers. The management team is planning to prepare zip line, canopy walk, paragliding, cable car, lumina lighting, bungee jumping, roller coaster, bamboo park etc. Proposals for new home stays have been prepared by renovating the buildings. The old British bungalows and the labour quarters will be renovated for accommodation and planning to extend the Zostel facility.
Renovations of Black Eagle Camp and construction are under progress. Fatima Farm is also preparing new projects for responsible tourism and opening news opportunities for native people. There are also plans to launch separate parks and convention centers. The management aims to provide employment to native peoples and improve their standard of living.